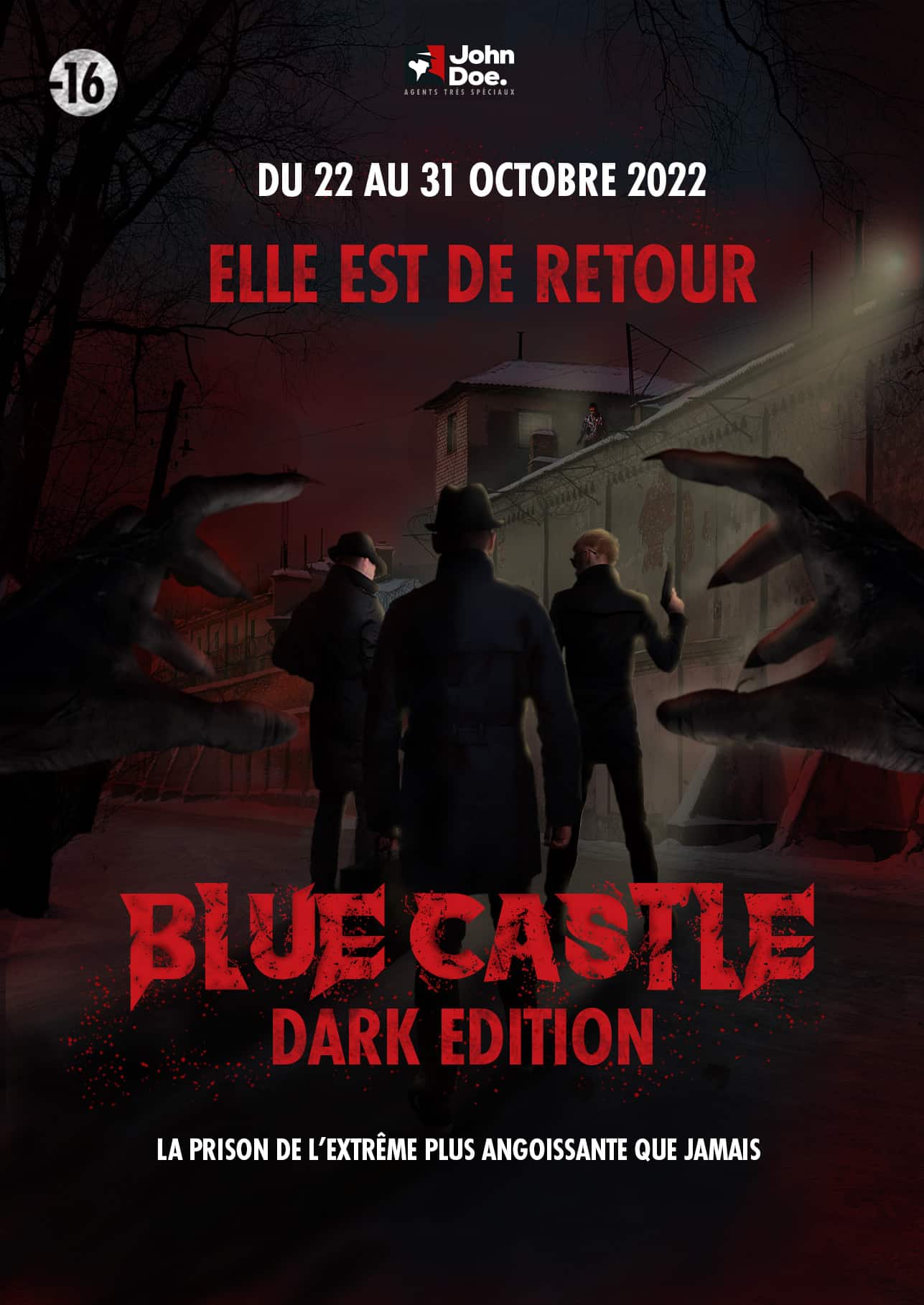 @ET-DC@eyJkeW5hbWljIjp0cnVlLCJjb250ZW50IjoiY3VzdG9tX21ldGFfdGl0bGVfaDEiLCJzZXR0aW5ncyI6eyJiZWZvcmUiOiI8aDEgY2xhc3M9XCJYXB0aGluXCI+IiwiYWZ0ZXIiOiI8L2gxPiIsImVuYWJsZV9odG1sIjoib24ifX0=@
WELCOME TO
YOUR WORST NIGHTMARE
Exclusive mission from October 22 to 31
New puzzles, a new scenario and a horrific atmosphere: discover a special Halloween mission.
It's back, to the delight of all anxiety fans! Decades after your mission in Blue Castle Prison, you return to the now-abandoned penitentiary to investigate suspicious activity. Between inhuman experiences and atrocious torture, you'll discover absolute horror. But that's not all: something seems to be spreading within the walls of what could well be your final resting place. Run away while you still can, even if it means sacrificing those who slow you down.
Mission : Stop the Z virus from escaping
Escape Game theme : The prison of anguish
Price: €30/person.
Mission not recommended for under-16s.
4.7

basé sur

3732

joueurs ayant déjà testé nos missions
To add slides, go to the WordPress admin page (not the visual editor) and look for the slider section and add slides. ! Be careful not to delete the invisible module (below) -> to make it visible, go to the "wired display" tab in the Divi controllers.
CONSIDER THE JOHN DOE GIFT CARD
Give the
gift of

adventure
to your loved ones
Turn your loved ones into Secret Agents and send them on missions
all over the world. Bonus: you can even leave with them!
Discover our other Escape Game missions
Your adventure
isn't over yet
Escape Game
Blue Castle

Prison
From 16.50 € per person.
Set off on a mission as frightening as it is mysterious. You've got 60 minutes to break out of the dreaded Blue Castle prison and escape the mad warden who's after you.
Reserve this Mission
Escape Game
Black Rock

Mine
From 16.50 € per person.
Search for a missing agent in the underground galleries of the Black Rock Mine. Beware, a bomb is about to explode. You have 60 minutes to defuse it.
Book mission
Escape Game
Las Vegas

Magnifico
From 16.50 € per person.
Head for Las Vegas, to the city's largest casino. The Magnifico's players would be completely addicted to the game, even to the point of going mad. It's up to you to find out why, and to track down Agent Romani, who has gone to investigate.
Reserve this Mission