@ET-DC@eyJkeW5hbWljIjp0cnVlLCJjb250ZW50IjoiY3VzdG9tX21ldGFfdGl0bGVfaDEiLCJzZXR0aW5ncyI6eyJiZWZvcmUiOiI8aDEgY2xhc3M9XCJYXB0aGluXCI+IiwiYWZ0ZXIiOiI8L2gxPiIsImVuYWJsZV9odG1sIjoib24ifX0=@
À partir de
16.50 € per person.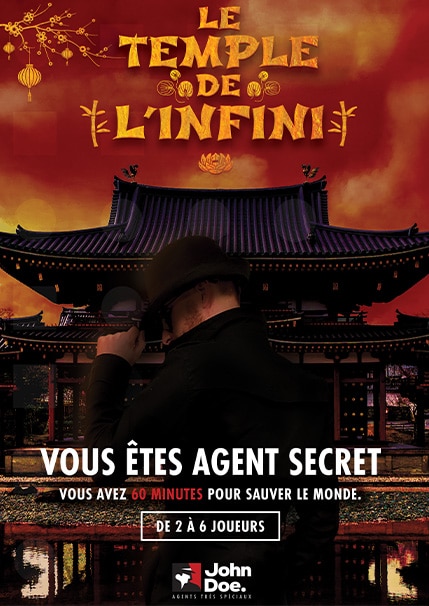 60 minutes to
save the world
Fasten your seatbelts, you're off on a John Doe Escape Game mission in Strasbourg that will take you on an extraordinary adventure. Like a true Indiana Jones, you take off for the Himalayas. An energy source has been detected, and it's up to you to investigate … and save the planet.
Mission: save the world
Theme: Adventure
4.7

basé sur

3732

joueurs ayant déjà testé nos missions
To add slides, go to the WordPress admin page (not the visual editor) and look for the slider section and add slides.
! Be careful not to delete the invisible module (below) -> to make it visible, go to the "wired display" tab in the Divi controllers.
Think of the John Doe Strasbourg gift card
Give the
gift of

adventure
to your loved ones
Turn your loved ones into Secret Agents and send them on missions
all over the world. Bonus: you can even leave with them!
Discover our other Escape Game missions
Your adventure
isn't over yet
The Temple of the Infinite in Strasbourg
An Escape Game scenario rich in adventure
As a team, you'll find yourself within the walls of the Temple of Infinity, an ancient Buddhist shrine steeped in mystery. John Doe's headquarters detected an unexplained source of energy coming from the heart of the temple. To get there, you'll need to solve a number of riddles and pass through a number of rooms. The place holds a strange secret, and it's up to your team of secret agents to find out what it is. As you progress through the scenario, you realize that the price of your failure is the destruction of the world as a whole. You have no choice but to complete your mission in less than 60 minutes.
A unique Escape Game in Strasbourg on the theme of the Tibetan Temple
The Temple of Infinity transports players into a universe full of mystery, with breathtaking scenery worthy of the greatest theme parks. The highly original puzzles are perfectly integrated into the game, giving the teams a real challenge as they try to solve them. This Escape Game holds many secrets that are a pleasure to discover.
For intermediate players
Whether you're an avid escaper or a beginner, John Doe's Temple of Infinity is for intermediate-level players who want to discover their limits and enjoy an adventurous experience under the guise of a 60-minute secret agent mission.
Other John Doe Escape Game missions in Strasbourg
John Doe offers other Escape Game activities in Strasbourg, including 3 indoor missions (La Prison de Blue Castle, La Mine de Black Rock and Le Magnifico) and an outdoor mission (Visite Insolite).